Massage Therapy in Austin
Clinical Massage Therapy: Not Just a Luxury!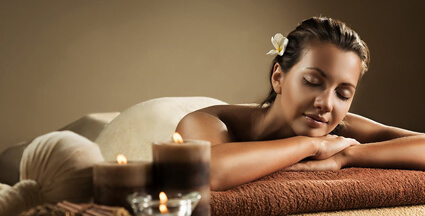 Are you determined to set some time in your day aside to relax? Whether turning your week around after a hard one at work, addressing an injury, or simply seeking 'down time', we invite you to indulge in our massage therapy experience. But we are betting that when you are on our table, you will not think of massage as a luxury, but rather, a regular necessity.
At RejuvaWell in Austin we are determined to provide you with relaxation and increased function using advanced clinical massage therapy.
Our licensed clinical massage therapists are the best in the business at what they do. Hand selected by Dr. Paris, and clinically trained to address specific conditions, these therapists are not your typical box store, just-out-of-school massage therapists. When you schedule a clinical massage therapy appointment in our tranquil spa, our therapists are determined to help you address any problem areas you would like to focus on during your session as well as help you achieve pure bliss. They recognize when and how to make appropriate referrals when needed.
Massage Therapy Techniques Offered
We offer a wide variety of clinical massage therapy techniques that include:
Sports Massage – Geared towards people who are often on the go with physical activities. Clients who bike, hike, body build or participate in sports that require muscles doing more strenuous activity than the average person. This approach works to increase blood flow to dense or adhered tissue, usually using a much faster paced Petrissage than typical Swedish Massage. Long, lengthening strokes are used, as well as pinning the muscle and moving extremities. Deep Tissue, Myofascial release, trigger point therapy and other specific modalities are often incorporated as each session is individualized.
Hot stone- Swedish massage with hot stones incorporated for a soothing session
Deep tissue – concentrating on specific areas that the client or therapist decides is needing extra attention. Hot compresses are used to warm up superficial tissue to work on the deeper layers. Typical areas where this is used include: Rhomboids, Pecs, Trapezius, Gluts, Hamstrings, and Quads.
Myofascial Release – worked into a full body massage. The whole body can benefit from myofascial work, but the therapist will likely find an area or two that truly needs unwinding and may make recommendations regarding where to focus during the massage session.
Trigger point therapy – Trigger points are located and released. If you notice that pressing on one area leads to pain in a distant area, a trigger point is most likely the culprit. Some people's bodies respond exceptionally well to trigger point therapy, and the therapist should be able to locate them as they perform any massage technique.
Range of Motion body stretching – Stretching done by the therapist while the client is relaxed. This is incorporated into the massage session. Examples include: wrists, shoulders, pectoralis, hip flexors.
Prenatal – Relaxing full body session for expecting moms. Done in side lying typically by 3rd trimester. Client can request certain areas concentrated on, but typically no deep tissue work is to be done. Though the literature does not show any correlation between negative outcomes and massage, we conservatively and respectfully do not perform massage on pregnant women in their first trimester without a doctor's note.
Teen massage therapy- Client is prompted for information about their sports or other activities. Therapist works with client to determine the best areas to work. Commonly, teens need work in their neck and shoulders, back due to heavy backpacks and hunching. General Swedish to arms and legs. Sometimes parents want to remain in the room with their teen.
Gentle or Senior massage therapy – Usually done with a lighter touch but we have plenty of clients who appreciate deeper work. Therapist must be very aware of varicose veins, prompt client for medications, heat sensitivities, scent sensitivities, and be extra careful around the cervical spine and occiput.
Massage Add-Ons
Dry body brushing (take the brush home!)
Aromatherapy – Client chooses the scent they would like incorporated into the massage session. Session begins with therapist holding their hands over the client's face about 8 inches away, asking them to breathe deeply 2 times. Your custom aromatherapy session includes a bottle made specifically for your session for you to take home.
We also offer dry body brushing, hot stones, and take-home aromatherapy from Rocky Mountain Essential Oils as an add-on to all of our clinical massage therapy modalities to revitalize your skin. Schedule an appointment today. When you're on the table, you will realize it's not a luxury, but rather, a necessity.
Our clinical massage therapists are determined to help your over and underused muscles feel better during and after each session. However, some injuries or chronic areas may require multiple therapy sessions to optimize movement. We will always refer to another provider if we feel the problem is more than just muscle.
Make an Appointment Today
Our exceptional therapists are dedicated to ensuring you are well taken care of and that your concerns and needs are addressed before, during, and after your appointment.

Massage Therapy Austin TX (512) 640-8090