Sports Injuries, Optimization & Physical Rehabilitation in Mueller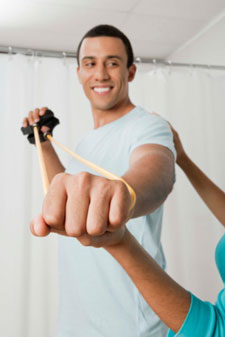 There are many avenues for specialized treatment with athletes and/or rehabilitation that work hand-in-hand with the chiropractic care you receive at RejuvaWell Whole Family Chiropractors. These options, such as clinical manual therapy or massage therapy and bodywork, may help your adjustments be more effective and longer-lasting. It's the specific expertise and experience that the doctors have though that make the real difference. Dr Paris is a dancer and has worked with the San Francisco Ballet and many performing arts organizations and athletes who participate in Roller Derby, Kids Sports, Golf, Volleyball, Ultimate Frisbee, Gymnastics, Aerial and ground acrobatics.
Dr. Paris offers physical rehabilitation solutions to complement your healing, including
Intersegmental traction
Manual traction
Electro-therapies
Soft tissue techniques
Rehabilitation exercises
Stretching
Bracing
Heat or ice
When there are cases that require more extensive rehabilitative processes, we may refer to a physical therapist.
Schedule an Appointment
Contact us today to book your appointment! Insurance can be used at our Mueller office.
CONTACT US »

Sports Chiropractor Mueller TX
(512) 640-8090