Frozen C Therapy at RejuvaWell
Introducing the coldest, most efficacious Cryotherapy Device – FROZEN C
We know all about the Cryo tank craze. And it's not necessarily bad. However, if you read the consent forms, you'll notice that there have been no actual studies nor FDA approval for the cryotanks. In fact, they can be dangerous because they are not regulated.
We are the first, and so far only, office in Austin to offer targeted cryotherapy and cryoanalgesia with the FDA cleared CO2 delivery device Frozen C! This device uses laser temperature feedback to ensure the targeted area reaches, but does not exceed ideal treatment temperature. The machine and operator is constantly monitoring temperature.
Why would I want this?
Pre & Post Injectables
Cryotherapy temporarily constricts blood vessels making all injectables safer.
Cryotherapy acts as analgesia, so injections are less painful
If a bruise does occur, Frozen C dramatically reduces the bruise size, time and overall inflammation.
Stand alone cryofacial
Though you might look good after one treatment, this is intended to be performed as a series of 6, spaced 1-2 weeks apart for the first 3 and then just monthly as maintenance.
Addition to Dermasweep or Aquagold
Used as an add-on to facials, Dermasweep or Aquagold, it's an economical way to enhance a service and leaves skin clean and glowing. Additionally, cryotherapy sterilizes the skin. So break-outs and reactive inflammation from pathogen exposure is diminished.
Cystic Acne
One of the indications for cryofacial is acne and cystic acne in particular. The cold actually collapses the cyst pockets characteristic of cystic acne. No drugs, no prednison, no Accutane. Bring your teen in for hormonal acne control!
Rosacea
Very few treatments can address Rosacea. Cryotherapy does. You will see instant decrease in redness, but over time, with a series, you'll likely experience dramatically improved skin color.
Does this compliment other services at RejuvaWell ?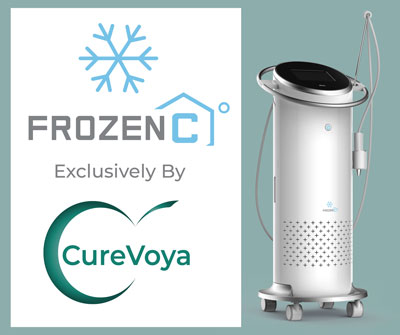 FROZEN C safely delivers concentrated, controlled medical grade cryogen at -78° C to encourage the body's instinctual responses to extreme cold, which produce medically therapeutic benefits, comfortably.
With treatment lengths ranging from 1 to 10 minutes, the FROZEN C is an ideal complement to facials, aquagold, chiropractic adjustments, massage therapy, injections & other ablative and surgical procedures.
In addition to its stand-alone benefits, FROZEN C enhances the efficacy, safety, & comfort of most other procedures. The extreme cold of FROZEN C neutralizes inflammation which reduces downtime, side effects, & pain. It calms the treatment area, kills bacteria, & closes exposed pores to seal in the benefits of other treatments.
FROZEN C Produces Numerous Therapeutic Benefits:
Reduce Inflammation, Redness, and Puffiness
Decreases Pain and Spasm
Calms Painful Procedures Instantly & Effectively
Increase Available Oxygen & Blood Flow
Reduce the Appearance of Large Pores
Smooth Your Skin's Texture and Tone
Shorten Downtime and Decrease Bruising
How many do I need, how long does it take and what does it cost?
The treatment parameters for a cryo facials a series of 6 that can be spaced as frequently as three times a week for acne and rosacea. As a general facial, we recommend a treatment every 4-6 weeks either as a stand-alone therapy or as an add on to another service.
Each treatment takes about 10 minutes. We don't want to really freeze your face more than is necessary!
A single cryofacial is $249, a series of six is $1200 and the fee is only $100 for an add-on to another service. Injection cryotherapy is included in the cost of the procedure.
Looking to improve your skin's overall appearance, reduce acne or to simply have a more pleasant experience pre-and post-treatment? Let us show you what the Cryo Craze is all about! Ask for a freeze today!

Frozen C Therapy Austin TX
(512) 640-8090